Tired of the Cookie Cutter Approaches to Business?
Your business and life are unique; you don't need yet another one size fits all marketing strategy.
That's why I offer Brand Boosts. It gives you an outside opinion on your specific business to clearly find unique path to success.
The first part of the Brand Boost is a 90 minute conversation about your business – where you are, where you've been, and where you're going.
After our call, I'll craft a unique marketing strategy for you, so you'll know exactly what to do (and stop doing) to take your business to the next level!
You can either choose to put the plan into action yourself, or hire me to take care of it for you. The plan itself is a valuable guide for you and your business, so you win either way.
*The cost of the Brand Boost is applied to the full project when you decide to move forward.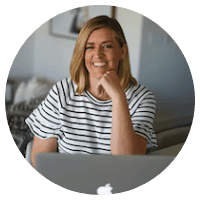 "I want to cry it was SO GOOD! I really love the bird's eye view of my business, you've given me so much clarity on the exact things that I was struggling with!"
Social Media Ads Strategist
"I went from feeling defeated and insecure about my brand, and honestly myself, to landing new clients less than 1 week! I gained so much clarity about what my brand is offering and who I am as a coach. It was so empowering and completely worth the investment."
Enneagram Coach for Couples