Branding and web design for Claire Solorio Coaching was my most stretching project to date. Claire is one of the most genuine and authentic clients I've had the opportunity to work with. I wanted to give her a brand and WordPress website that portrayed that. 
Claire and I worked for a couple of months to give her the perfect brand and website to launch her coaching business. I'm so excited to share the aspects of the final project today. 
Before I go into depth about Claire's brand and web design, here's a look at her brand board, including her brand keywords, color palette, fonts and stock images. 
Claire Solorio Coaching is a breakthrough business coaching business. Claire helps female online entrepreneurs uplevel their businesses by gaining clarity about their own businesses. She works primarily with entrepreneurs in a service or advisory role who have an established business. 
Breakthrough, transform, insight, illuminate, vision
Single page web design 
The package included: 
Brand Identity Design
Color palette
Font combination
Stock image 
Web Design
Single page website design
Copywriting assistance
MailChimp set up and email list integration
"Breakthrough" – when Claire and I were discussing her brand and business, this is the word that echoed over and over again. Claire's ideal clients range from birth workers to business coaches, so we needed her branding to appeal to both audiences.
Honestly, her branding was a stretch for me. I sat down for hours trying to find a way to appeal to professionals in a business realm and more natural setting. They seemed like such opposites. 
When I went back to the word "breakthrough," the branding finally started to take shape.  The color that kept coming to mind was a spring green. 
Claire had a website that someone had designed for her several years ago for her previous business. She knew it needed a new website for her new coaching business.
Here's what her website looked like before: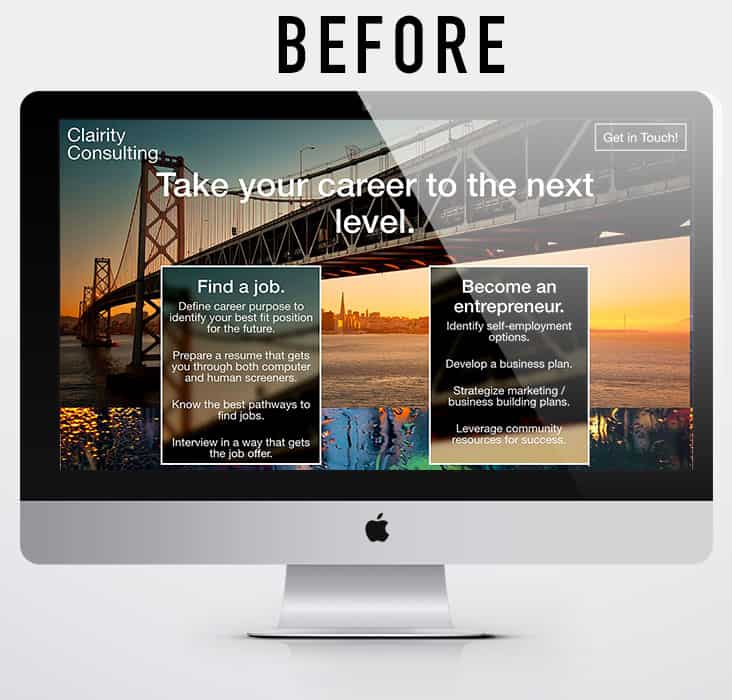 Claire wanted a clean WordPress website without any extra fluff. I'm a sucker for minimalism in general, which is one of the many reasons I'm a proponent for single page websites. I knew from the first time we chatted that one of my custom designed single page websites would be perfect for Claire's coaching business. 
We wanted to give visitors a bit of her story to connect with, highlight testimonials from previous clients, and then share how visitors can work with her. We also planned out a sales funnel for her that started with visitors signing up for her lead magnet from her website.
Claire's CTA (call to action) is to book a free strategy call with her. It links to her Acuity scheduler for a seamless interaction for visitors. 
The responsive website I designed for Claire fits seamlessly with her branding and messaging. (That's the benefit of a comprehensive web design package!) You can see images from her project in my portfolio but here's a sneak peek. 
I'm so excited with how Claire's website turned out, especially with how the branding, copy, and design all work together so effortlessly. This is why it's so important to work with a web designer who knows how to create a cohesive brand and website. 
If you're ready to get a website that captivates client hearts by having copy that connects, better branding, and a website that wows, let's talk! To find out more about my branding and web design packages, click the button below. 
What do you think about the branding and web design for Claire Solorio Coaching?