Your brand's ready for a promotion!
Creating VIP websites that turn solopreneurs into CEOs
Normally getting a website designed for you is a long, frustrating process. ​
What if instead you could get a website you love
in just one day?
Follow a straightforward process that completely takes the stress out of getting a website.
Have clear, prompt communication because my eyes are on just your business for the day!
Get the website you've been dreaming of before dinner is ready!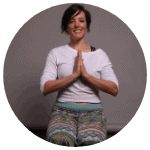 "I'm excited because you took all the things in my crazy brain I said that day… which I'm always afraid never make sense coming out… and you did it. You figured it out. You knew what I was saying."
"You not only took the absolute frustration out of building my website, but you did it in a way that I'm extremely proud to show off to my clients."
Wait, can you really design a website in a day?
Yes! In just one day, I can design a 5 page custom WordPress website for you!
In fact for the last couple years, I've designed websites in a day for clients several times a week.
Need help writing your copy? We can add a second day and you can work with my copywriter to get that done too!
I know your life is busy.
You don't have time to fill out never ending questionnaires or "workbooks" filled with ridiculous questions like what kind of magazines your ideal client reads.
Your business certainly doesn't have time to wait WEEKS OR MONTHS for a new website.
IN JUST ONE DAY, I'LL HELP YOU GET AN AMAZING, PROFESSIONAL WEBSITE SO YOU CAN GET ON WITH GROWING YOUR BUSINESS.
Want to see what's possible in just one day?
Hi, I'm Dara. I've been designing websites for longer than NCIS has been on the air… I know, that makes me a whole lot older than I look. 
Designing websites for clients used to take an eternity, with weeks of back and forth emails to get things just right. 
But one day I realized ain't nobody got time for that.. so I treat my VIP clients to a streamlined process that lets me create a website they love before dinner is ready!
If you're ready to get a website you're proud to show your customers and clients, then let's talk about if a VIP website is the right fit for you!
The secret to creating a captivating website is strategy! During your Brand Boost, we'll uncover your unique brand positioning and I'll put together a strategy to let that shine online.
Pick a day on my calendar when you can be virtually available to give feedback as I work on your website. You'll pay a 50% deposit to secure your date.
On the day of your intensive, I'll send you messages throughout the day to get your feedback so I can make sure you get a website you 100% love!
For a full day, my time will be dedicated to designing you an incredible website and connecting all of your tech to it. 
I'll create custom graphics for you so you can show your new website off to the world! It's time to start getting those leads rolling in! 
Every new mama deserves a helping hand! So for 30 days AFTER your website launches, I'll be available to answer any and all questions you might have about your new website.
Not a techie? No problem! Your new website will come with training videos to walk you through how to update your website yourself!
*Cost of Brand Boost is applied towards your final project
Frequently Asked Questions