Let's build your online presence today!
Do you need an affordable author website to launch your new book or showcase your writing career?
In today's online world, having a clean, professional authors website is key to your book launch strategy. The good news is getting a website doesn't have to cost a fortune, be complicated, or take months to complete.
In fact you can get a great, author website this week that includes everything you need to promote your book on the Internet and put your best foot forward in the publishing world.
We've taken the hard work out of getting a website, so all you need to do is answer a few questions… and we'll take care of the rest!
This author website was created to allow you to grow your mailing list, connect with your audience on social media, AND be SEO-friendly to help you get found on search engines like Google.
And unlike a lot of the other author website options out there, your beautiful new website can be up and running THIS week… without you having to touch any tech!
At Busy Mom Launch Squad, we know that you want to spend your time doing what you love the most – writing, creating, and connecting. That's why our web designers make it easy for you to get the web presence that you need as an author.
We call them Quick & Easy Author Websites!
This isn't another theme or template you're buying and having to set up yourself.
This is a complete 'done for you' website for authors, customized just for your business by a professional web designer.
Valued at Over $2500… but available for only $750!
Your new homepage will feature testimonials and reviews, as well as a brief author bio that will let you connect with your audience right on your new site
Every author platform needs to be a connection point between your book and your audience. The beautiful design of your about page will help do that on your new site.
What author does't want to be contacted by the press or media? Your press page will provide everything someone will need to feature you and your book in their publication.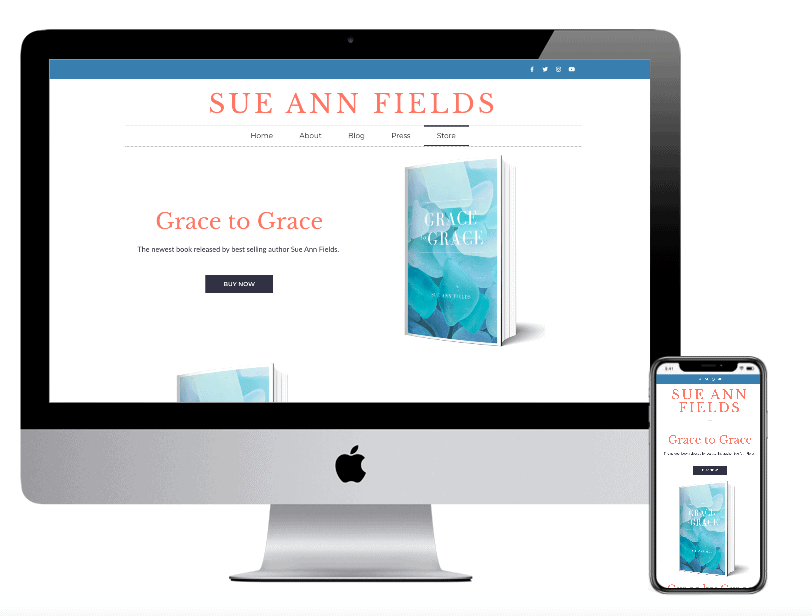 A bookstore page that redirects to your Amazon listings for easy sales
Blog page so you can continue to connect with your audience on your new site
Contact page with a contact form for publishing professionals and subscribers to contact you
I couldn't be more In love with the website Dara designed for my coaching business. She is not only creative, but fast. Within a very short time she had my site up and running. With little prompts from me, she was able to see my vision. I would highly recommend Dara.
Dara has helped me connect with my audience in a way I've never been able to do before. Dara not only took the absolute frustration out of building my website, she did it in a way that I'm extremely proud to show off to potential clients.
Have a question not answered here? Send me a message and we can chat!
What platform is this website on?
This is for a WordPress website. 
How much is hosting after the first year?
Hosting is $10 a month, paid monthly, after the first year. If you prefer to switch to another hosting services, you can do that after the first year.
Can I make changes to the author website after you're done?
I'll add the text and images that you supply, but you can make changes yourself to the website in anyway you want moving forward. The walk through videos show you how add your own images, colors, and fonts, as well as how to edit the copy templates.
Can you add additional pages to my author's website?
Yes, additional pages can be added for a $150/page at any time. Just let us know what you'd like, and we'll make it happen!